Day 1 - Your Favo
rite Song
Day 2 - Your Favorite Movie
Day 3 - Your Favorite Television Program
Day 4 - Your Favorite Book
Day 5 - Your Favorite Quote
Day 6 - 20 of my favorite things
Day 7 - A photo that makes you happy
Day 8 - A photo that makes you angry/sad
Day 10 - A photo taken over 10 years ago of you
Day 11 - A photo of you recently
Day 12 - Something you are OCD about
Day 13 - A fictional book
Day 14 - A non-fictional book
Day 15 - your dream house
Day 16 - A song that makes you cry (or nearly)
Day 17 - An art piece (drawing, sculpture, painting, etc)
Day 18 - My wedding/future wedding/past wedding
Day 19 - A talent of yours
Day 20 - A hobby of yours
Day 25 - Your day, in great detail
Day 26 - Your week, in great detail
Day 28 - Whats in my handbag/purse
Day 29 - Hopes,Dreams and plans for the next 365 days
Day 30 - A dream for the future
Hmm... I guess the best way to tell you about 20 of my favorite things it to show you pictures. Murray is my favorite thing, as well and family and friends. This list will be 20 other things (in no particular order)! Ready, Set, Go!
1. Carolina Gamecocks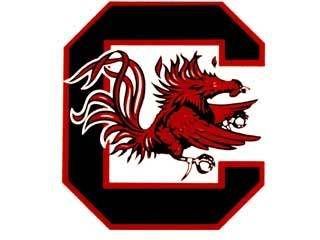 2. The Andrews Sisters!
3. Dave Barnes comedy. Try and not laugh... it's so funny!
4. Cooking and Baking!
5. Weddings. Seriously, everything weddings!
7.
8. Elephants
9. Winter/Snow
10. The USA- I am probably THE most patriotic person you will ever meet. Promise.
11. The Weather Channel
12. Charleston, SC
13. Sweet Tea. MMM.
14. Roadtrips. So fun! Our next one is to Tampa to see Kristen and Micah!!!
15. High Heels! Any and all!
16. Urban Outfitters, one of my favorite favorite favorite stores!
17. Purple Tulips. They are my favorite flower :)
18. This picture!
19. The Beckham's- I love them.
20. MMMBop by Hanson. I still know every word!
Thanks for reading!!! What are some things that make you guys happy?