Day 1 - Your Favo
rite Song
Day 2 - Your Favorite Movie
Day 3 - Your Favorite Television Program
Day 4 - Your Favorite Book
Day 5 - Your Favorite Quote
Day 6 - 20 of my favorite things
Day 7 - A photo that makes you happy
Day 8 - A photo that makes you angry/sad
Day 10 - A photo taken over 10 years ago of you
Day 11 - A photo of you recently
Day 12 - Something you are OCD about
Day 13 - A fictional book
Day 14 - A non-fictional book
Day 15 - your dream house
Day 16 - A song that makes you cry (or nearly)
Day 17 - An art piece (drawing, sculpture, painting, etc)
Day 18 - My wedding/future wedding/past wedding
Day 19 - A talent of yours
Day 20 - A hobby of yours
Day 25 - Your day, in great detail
Day 26 - Your week, in great detail
Day 28 - Whats in my handbag/purse
Day 29 - Hopes,Dreams and plans for the next 365 days
Good morning bloggy world! Murray is off in her own little world playing with her new broom she got yesterday, so I am taking advantage of that and blogging early! Today in my 30 day journal I get to talk about my favorite tv show! This is another time where I can't just pick one, so I am doing my top 3 again!
1. Army Wives!- This is one of those shows where you pretty much cry in every episode! I know it probably isn't super realistic but it's so good. PLUS, it's filmed in Charleston (my favorite place ever). I read the book too and it's just as good as the show! Trevor/Roxy, Chase, and Frank are my favorites. I'm so ready for tomorrow night's episode to see what happens!!!! FYI, if you don't watch it, you can check it out
Blogger: Just a day in the life of Brittany and Murray! - Create Post
2. Grey's Anatomy- Another great one. Season 2 will always be my favorite season. I have them all on dvd (and army wives too). Any episode with Denny makes me cry; IDK why but it does. Especially the one where he dies. So sad. I still cry like an idiot every time I see that episode.
Oh boy, did I mention McSteamy and McDreamy????? :) Enjoy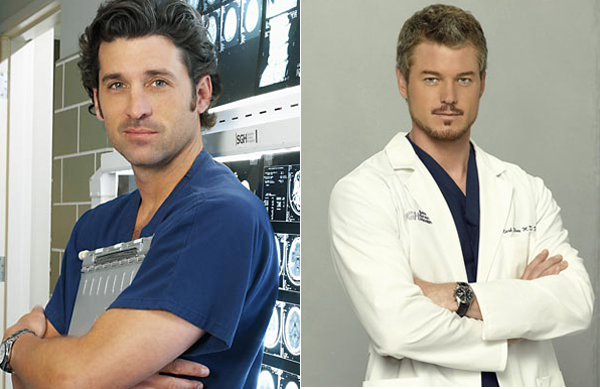 3. Keeping Up With the Kardashians- Say what you want, but I LOVE the Kardashian sisters! And Rob. They are so hilarious! Me and my friend Nicole joke all the time! I am Kourtney because I have a baby, she is Kim, and our friend Sarah is Khloe because she's married now. Someone take me to California so I can go to Dash! :)
Ok, it's your turn. I want to know what YOUR favorite TV show is!!! Happy Saturday!
<3bri