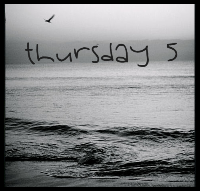 It's Thursday, which means my favorite post of the week! IF you wanna play, just follow along and then link up at Mrs. Gambizzle's blog!
Joyous
1. I am happy it's GAMEDAY!!! LET'S GO COCK

S!
2. I am joyous because

I get to see Dave Barnes in concert on Monday! Yay!
3. I am giggly because Murray is so funny! Every animal says "moo" now, even the alligator!
4. I am lucky because I get the opportunity to go to school. It may be boring and sometimes hard, but not everyone gets the chance.
5. Last, I am thankful for the amazing new friends I have made. Sometimes it's hard to imagine why we have to go through a heartbreak, but then you realize you made all these great friends because of that time in your life! I love you guys! :)